Preproduction CGI image shown.
Meet the Broncos
The Bronco Family is vast, with a reach as far as you're willing to take it and a legacy that spans generations.The entire Bronco family is designed, engineered and built for adventure. So get ready to mount up and get dirty because the one and only legend is making its long awaited return.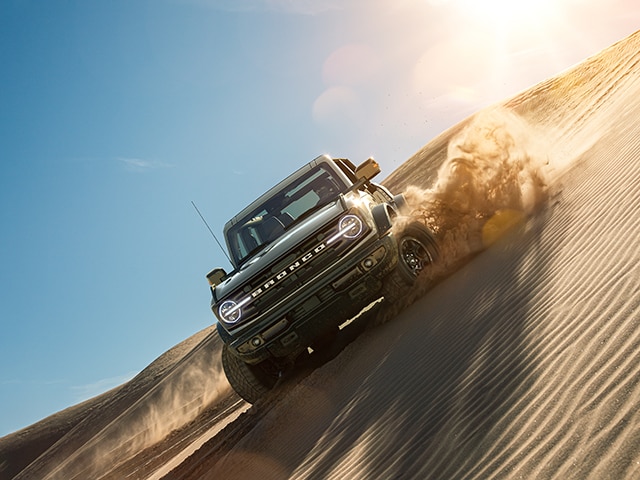 The 2021 Bronco
There's a whole world out there just waiting to be discovered. To find it you have to break rules, push boundaries and climb over the barriers in your way. With its relentless toughness and durability, the all-new Bronco was built to carry outdoor enthusiasts to wherever the wilderness calls. Available in two- or four-door models.
Preproduction CGI image shown. Available beginning spring 2021.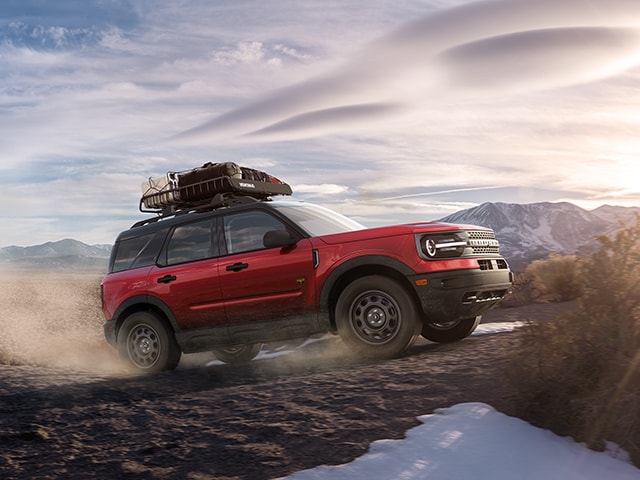 The 2021 Bronco Sport
Meet the latest in the family. The all-new Bronco Sport is your wilderness guide with four unique series engineered to match the way you experience the outdoors. Each, expertly equipped to get you out there - To the mountain ranges, the woodland trails, and the scenic shores. Your adventure begins in a Bronco Sport, and it never ends. Customize and order your Bronco Sport now, with your Ford Dealer.
The All-New 2021 Ford Bronco Is Coming to Ponderay, ID
Ford is known for making some of the most legendary vehicles ever built, one of which is the rugged Bronco SUV. The Bronco was first released in 1965, and now it is being revived for the 2021 model year. To get the most up to date information regarding the 2021 Ford Bronco and how to preorder one, reach out to our team at Mike White Ford of Sandpoint.
The Bronco is predicted to be one of the most popular vehicles released next year, and it may be incredibly difficult to get an allocation if you don't act quickly.
What To Expect
The new Bronco will be a rugged mid-size SUV that is focused on its off-roading capabilities. You can option the new Bronco as either a two-door or a four-door SUV depending on which style you like more. The Bronco will most likely be able to be had with either a removable hardtop or soft top, which will allow you to embrace your surroundings like no other vehicle on the market. The tops will be easy to remove and will most likely require the use of few tools or none. Ford has designed the tops to be effortless to remove, so you can easily take them off whenever the weather in Bonner's Ferry is right.
The Bronco will also feature easily removable doors if you want even fewer boundaries between yourself and nature. They even mounted the mirrors on the body of the Bronco so you don't have to choose between doors and mirrors.
Performance
When it comes to performance, we know that the Bronco will be offered with your choice of two engines. These will most likely be EcoBoost® engines, and they will be offered with your choice of either an automatic or manual transmission. The manual transmission is rumored to be a seven-speed with a rock crawling gear. This is perfect if you are looking for the most immersive off-roading experience.
No matter which powertrain you choose for your Bronco, it will be able to handle most trails without any issues thanks to its amazing suspension. Ford has already released footage of the Bronco taking on some difficult trails easily while still keeping composed. This means that they have spent some time fine-tuning the suspension to be able to handle the streets of Newport, WA and the trails of Libby, MT.
Design
Styling is an incredibly strong suit for the new Bronco, as it harkens back to the original version with a modern flair. The Bronco retains its classic boxy design while having a mostly minimalist exterior. It has circular LED headlights up front, and it can be mounted with a full-size spare in the rear.
The Bronco features large plastic over fenders for a more aggressive stance, and it has easy to replace panels in all of the common off-roading impact zones. The Bronco looks to have tons of mounting points for various mods, which would not be a surprise. Dedicated off-roaders like the Bronco often develop a large aftermarket full of parts to customize your vehicle.
Interior
The Bronco is aiming to be a bit more luxurious than some of its major competitors. This is easy to see by looking at the materials Ford has used in the interior. The Bronco also has a focus on providing you with more modern technology than what is found in its major competitors. The new Bronco will prominently feature a large touchscreen display that makes it easy to control your media with intuitive controls.
Reserve Your 2021 Ford Bronco Near Sagle, ID
By reaching out to our team in the Spirit Lake, ID area, you can get all of the information regarding the new Bronco as soon as it is available. They can also help you preorder your Bronco, as it will most likely be an incredibly hard vehicle to get otherwise.